California Latino Water Foundation Board Members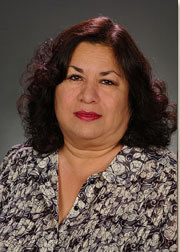 SYLVIA BALLIN, Chair Member
Sylvia Ballin, CLWC Chair Member, has represented the City of San Fernando on the Metropolitan Water District of Southern California board since 2007. Before becoming a director, she was a MWD principal administrative analyst in the Facilities Management section. Sylvia retired after 21 years of service. She is a past president of two MWD employee organizations, the Woman's Association for Equal Opportunity and the Hispanic Association. She is a past vice president of the Native American Alaska Native Employees Association and AFSCME Local 1902, Group 12. Sylvia also served as a member of the Sisters of Charity in San Fernando and on the city's Christmas parade committee.
S.R. 'AL' LOPEZ, Secratary
S. R. "Al" Lopez is the Secretary of the Western Municipal Water District, a former Director of the Metropolitan Water District of Southern California and Southern California Chairman of the CLWC. He has served on Western's board since January 2001 and has worked to ensure water service to residents of Western's Division 5 (Corona, Lake Hills, Home Gardens, El Cerrito, and a portion of Norco). He also is a former Mayor of the City of Corona and has served on many local civic, community/ governmental boards serving residents in Riverside County. Lopez was honored by Congressman Ken Calvert with a Congressional Record Tribute in 2005 for Public Service.
Maria Giuriato, Treasurer
Lorem Ipsum